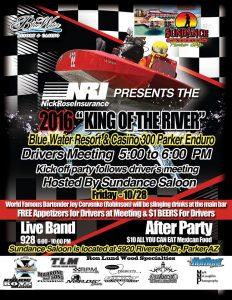 RPM Racing Enterprises is excited to announce the Drivers' Meeting and Kick-Off Party for the 2016 Blue Water Resort & Casino 300 Parker Enduro, Presented by Nick Rose Insurance, will be held at Sundance Saloon. The mandatory Enduro driver's meeting will be Friday from 5:00 -6:00 p.m.
Immediately following will be the Driver's Party hosted by Sundance Saloon.  Sundance will be providing complimentary appetizers and $1 beers to all drivers and all-you-can-eat Mexican food for $10 and a live band ("928") from 6:00 – 10:00 p.m. The World Famous bartender, Joy Cervenka (Robinson), will be slinging drinks at the main bar! The driver's party is open to the public, come on down and meet the driver's!
Please support our great sponsors of the 2016 Blue Water Resort & Casino 300 Parker Enduro;   Nick Rose Insurance,  Nordic Boats,  Advanced Oilfield Services, Ecology Auto Parts, Integral Products, The Flatbottom Boogie, Hotboat.com, Twisted Liquid Marine and Ron Lund Wood Specialties.
RPM Racing Enterprises wishes to thank Sundance Saloon Owner, Norm Turley, a former Indy CarTeam Owner & current Off Road Trophy Truck and sponsor of the EKR "Problem Child" Top Fuel Hydro drag boat race team.
Sundance Saloon is located at 5920 Riverside Dr. , Parker, AZ Visit them on Facebook at https://www.facebook.com/originalsundancesaloonaz/
For More Information please visit www.rpmracingent.com or call (310) 318-4012.